Services
All problems, no matter how trivial they seem, can be helped by quick, early assessments, to provide you with all the information on your problem. This ensures that you understand its exact nature, cause and recommended treatment and rehabilitation. Our services include:
Initial Assessment
Before commencing treatment at PC Physiotherapy, it is essential that you attend for an initial assessment so that we can discuss what methods will suit you best. This will involve your therapist taking a thorough history of your problem, listening to your concerns, and performing a physical examination. This detailed process will allow your therapist to reach an accurate diagnosis, which shall ultimately lead to a more effective treatment program, and rapid recovery.
We understand that this procedure cannot be rushed, and In order for us to gather all the information needed, each assessment is 1 hour in duration. You will always receive some treatment within this time. To arrange you initial assessment contact a member of the team now on 01908 299272 or email info@miltonkeynesphysio.co.uk
Manual Therapy
Whether your joints are stiff or painful, there will almost always be a technique that will suit you. Contrary to popular belief, these techniques are gentle, and do not involve "putting joints back into place".
The clicking sound is due to release of pressure within the joint, which then allows it to be gently mobilised to restore movement and function. Manipulations are not always indicated and discussion with your therapist will be required. Alternatively, gentle mobilisations may be more appropriate to allow gradual stretching to the joint capsules and surrounding soft tissues. For further information, or to find out if you could benefit from manual therapy, contact a member o the team now on 01908 299272 or email info@miltonkeynesphysio.co.uk
Acupuncture
This age-old treatment technique has been used for centuries for a multitude of problems. Here at PC Physiotherapy, we use acupuncture for pain relief for a variety of musculoskeletal disorders. It is not painful, but involves insertion of very thin, sterile needles a little way into the skin. This has an effect on the underlying nerves which blocks painful messages from reaching your central nervous system. It may be used on its own, or in conjunction with other treatment modalities, and has been proven to be very effective for spinal and peripheral joint problems, and for headaches. at PC Physiotherapy, we also use acupuncture to treat muscle spasm and "knots", when massage has not been effective. Discuss with the therapists to decide if this may be appropriate for you. Contact a member of the team now on 01908 299272 or email us at info@miltonkeynesphysio.co.uk
Massage and Specific Soft Tissue Techniques
There are many ways of treating soft tissue problems and massage comes in many different forms. Sports massage is deep, isolating tight areas and working them free, Swedish massage is gentler for those of you that don't like to be 'pummelled!' Myofascial Release is another technique which restores normal length to the soft tissues that surround your muscles and joints. Stretching techniques can also be employed to work on specific muscle groups.
The benefits of massage are widely known. It improves circulation and lymphatic drainage, improves muscle length and has fantastic pain-relieving and de-stressing effects. Whether your muscles are tight after a run, or your shoulders ache after sitting at your desk all day, there is always a treatment technique that will benefit you. Contact a member of the team now on 01908 299272 or email us at info@miltonkeynesphysio.co.uk
Sports Injury Rehabilitation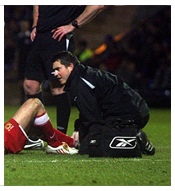 PC Physiotherapy provides 1st class sports rehabilitation to amateur, semi-professional and elite sports performers across Milton Keynes.
With a background in Sports Science and conditioning we are able to provide advice regarding specifically tailored exercise programmes.
Specialising in Football, Running and Rugby injuries, Paul will be able to facilitate a full recovery. With good links across Milton Keynes with orthopaedic consultants and GP's we are able to utilise a multidisciplinary approach if required.
If you get injured through sports or get pain when working out please contact us and book in for a 30 minute assessment for £30.
Contact a member of the team now on 01908 299272 or email us at info@miltonkeynesphysio.co.uk
Electrotherapy
At PC Physiotherapy, we only employ treatment modalities that work. Ultrasound has been shown to be effective for assisting in the healing process of acute soft tissue injuries. Be it a sprained ankle or inflamed knee, this non-painful form of electrotherapy may help to promote recovery in conjunction with other physiotherapy treatments. It works by transmitting sound waves into the injured tissue. This causes the cells inside the tissue to vibrate gently against eachother. This increases circulation and speeds up the cells activity, resulting in acceleration of healing. To find out if ultrasound may benefit you, contact a member of the team now on 01908 299272 or email us at info@miltonkeynesphysio.co.uk
Clinical Pilates
Clinical Pilates is a special form of pilates created by Physiotherapists, whereby traditional pilates exercises have been adapted to suit people with problems. We understand that large classes and difficult exercises may do more harm than good to your back or neck pain, and we provide one-to-one pilates sessions to ensure that you are performing exercises correctly, and get the tuition and support you need. If demand for these one-to-one sessions increases, we plan on developing a regular clinical pilates class program, which shall consist of small groups of clients with musculoskeletal problems, lead by a Physiotherapist instructor. To find out if you could benefit from Clinical Pilates, please do not hesitate in contacting the team on 01908 299272 or email us at info@miltonkeynesphysio.co.uk
Exercise Prescription and Rehab
Here at PC Physiotherapy, we are specialists in providing you with an individualised, tailored exercise program to suit all of your needs. Whatever the problem, be it a sports injury, post operative procedure, or long-standing low back pain, our expert knowledge in this area will rapidly restore your confidence and function, giving you a personal printed regime that you can follow at home, or under supervision. We also provide specialist equipment that may help to progress your rehab as appropriate, including wobble boards and theraband. To find out more, contact us now on 01908 299272 or email us at info@miltonkeynesphysio.co.uk
Orthotics
PC Physiotherapy offers medical devices called orthotics. These are innersoles placed into your shoes for everyday life. We offer a bespoke service using custom made shoe inserts to aid foot shape and delicate joints.
Orthotic insoles are used to correct particular biomechanical dysfunctions such as troublesome knee joints or incorrect posture and also help to prevent pain when exercising.
Should you require orthotics to aid with your rehabilitation, your physiotherapy will take you through the available options to you which range from custom made orthotics to specially designed orthotics based on your 3D analysis of your feet.
During your assessment our physiotherapists will look at your posture to see whether these might be required to help with any biomechanical issues.
Shockwave Therapy Milton Keynes
Shockwave Therapy or Radial Extracorporeal Shockwave Therapy (rESWT) is a revolutionary treatment for overuse musculoskeletal conditions. This process induces microtrauma to the injured tissue and the body responds by increasing blood circulation and metabolism. This in turn speeds up the body's natural healing response by increasing cell generation and dissolving troublesome calcium deposits.
Conditions which can be treated by shockwave include:-
Plantar fasciitis/ Heel pain
Tennis Elbow
Golfers elbow
Patella Tendonitis
Greater Trochanteric Bursitis
Shin splints
Achilles Tendonitis
Hamstring injuries
Shoulder Bursitis and Calcific Tendonitis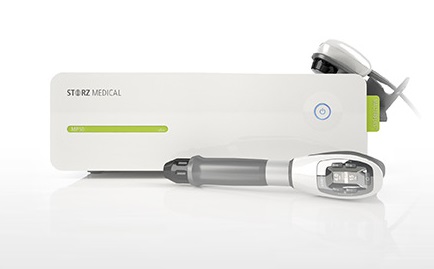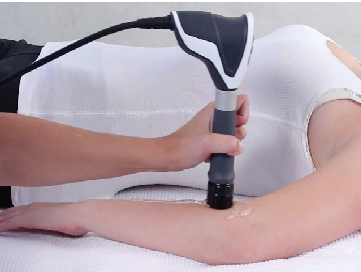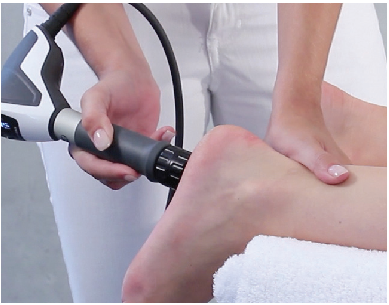 Advantages
75-90% success rate
Non-invasive
Safe
Immediate analgesic effects
No anaesthesia required
No medication required
New technology with proven medical effects
Costs
You will be invited to undertake an initial consultation lasting 30minutes. If the therapist doesn't feel shockwave therapy is indicated then the cost will be £30 only.
If Shockwave Therapy is indicated you will receive the first of four treatment sessions during the initial consultation and the cost is £400 for 4 sessions.
Private Healthcare cover for Shockwave Therapy
If you have private health care insurance please contact your insurance provider to confirm the following things:-
That you are covered to be funded for radial Extracorporeal Shockwave Therapy
Whether you need a GP referral.
Whether the treatment needs to be undertaken by a consultant, a physiotherapist or either.
Your membership number and authorisation code.
Gym Facilities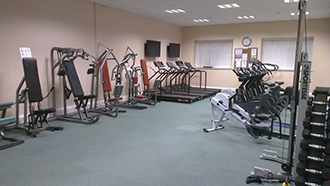 At PC Physiotherapy we are lucky enough to have access to Core Fitness Gym in Newport Pagnell which unlike most physiotherapy clinics gives us access to a vast amount of rehabilitation equipment. This helps us go through individual programmes with you.
"Core Fitness Centre" Newport Pagnell offers the latest in cardiovascular and weight-training equipment. Additionally, we have our Vibrogym which is one of our most popular items and can provide amazing results! With plenty of treadmills, elliptical trainers, bicycles and free-weights to choose from, you'll never have to queue for your exercise.
We employ the latest training methods and equipment including Kettlebells, Keiser air resistance machines and free motion trainers. Everything in our facility is fully commercial, designed to withstand years of use without failing.
Visit www.fitcore.co.uk and contact them for information about classes and membership prices.